Things To Do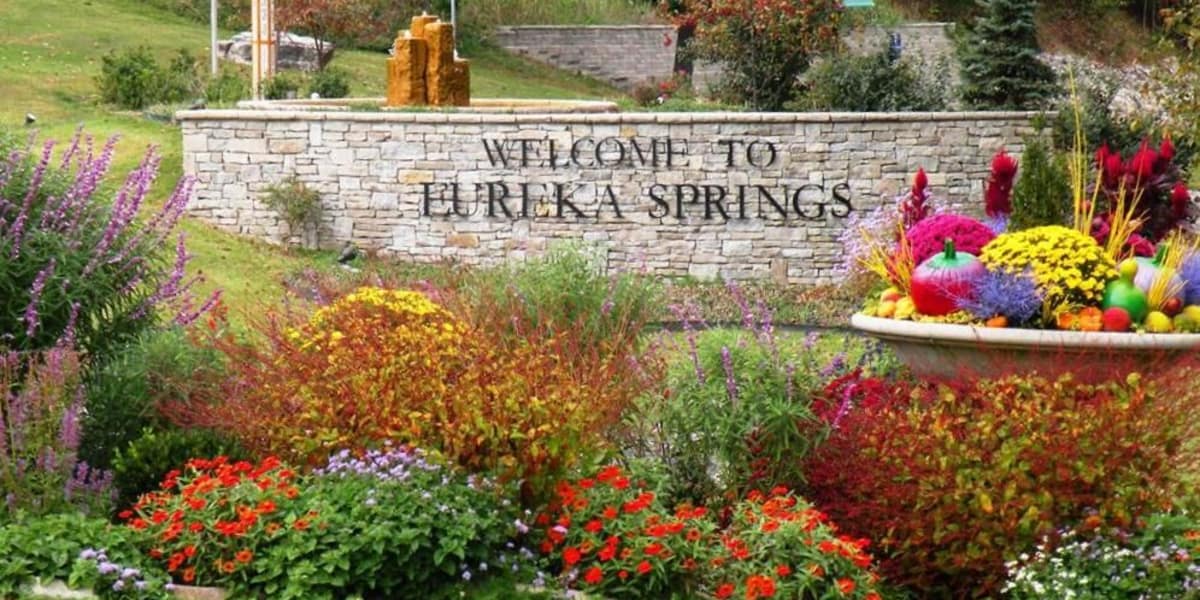 For veteran traveler or novice, there is always something interesting and new to experience in Eureka Springs, Arkansas. Hike the hills around town, or out by Lake Leatherwood , the largest city park in the USA . Cool down and wind down in the afternoon with a cool beverage in a chair with a view on a balcony overlooking the historic streets at one of the local restaurants. Spend a day trying to visit every antique shop listed in the Eureka Springs Antique shopping guide. You will be shocked at the treasures you will find. Not so many years ago, it is rumored that an original Tiffany lamp was discovered in one of Eureka Springs Antique shops – and at a huge bargain! You never know…
Dining
OUR FAVORITE PLACES TO EAT IN EUREKA SPRINGS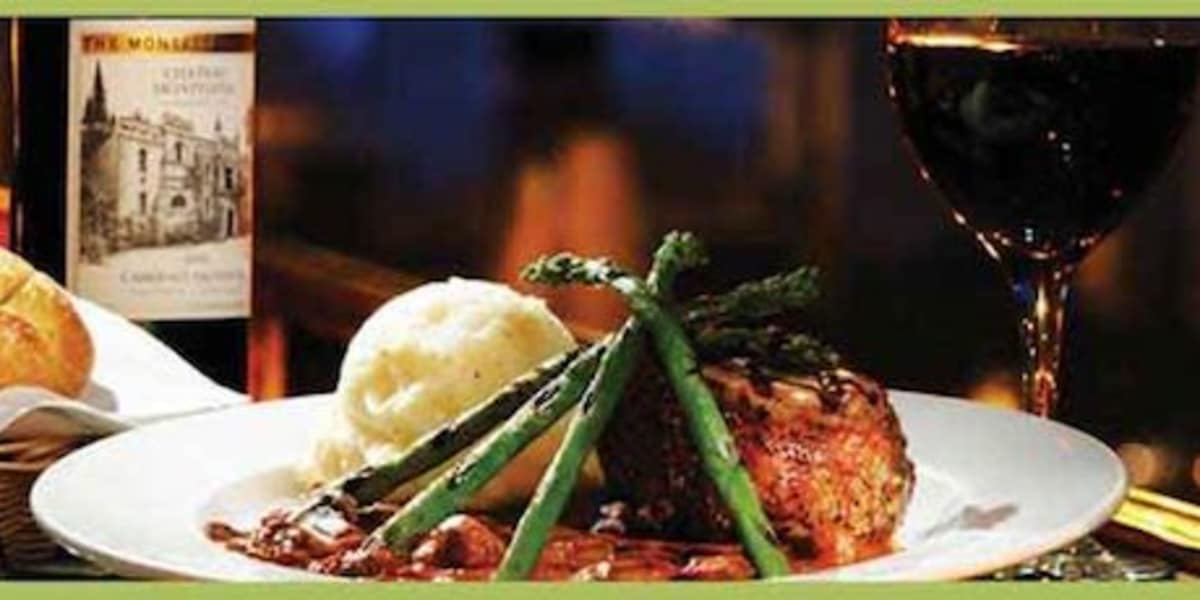 Fine Dining
Bavarian Inn .
Cottage Inn – L/D
DeVito's – L/D
Ermilio's – Dinner
Fresh Farm-to-Table
Gaskin's Cabin – Dinner
Grotto – L/D
Grand Taverne
Le Stick Nouveau
Local Flavor
Sparky's Roadside Cafe – L/D
Casually Delicious
Bubba's BBQ – L/D
Geraldi's – Lunch
Local Flavor – L/D & Sun Brunch
Mud Street Cafe – B/L/D
Nibbles – Lunch
Oasis – 10-2 daily
Drives & Day Trips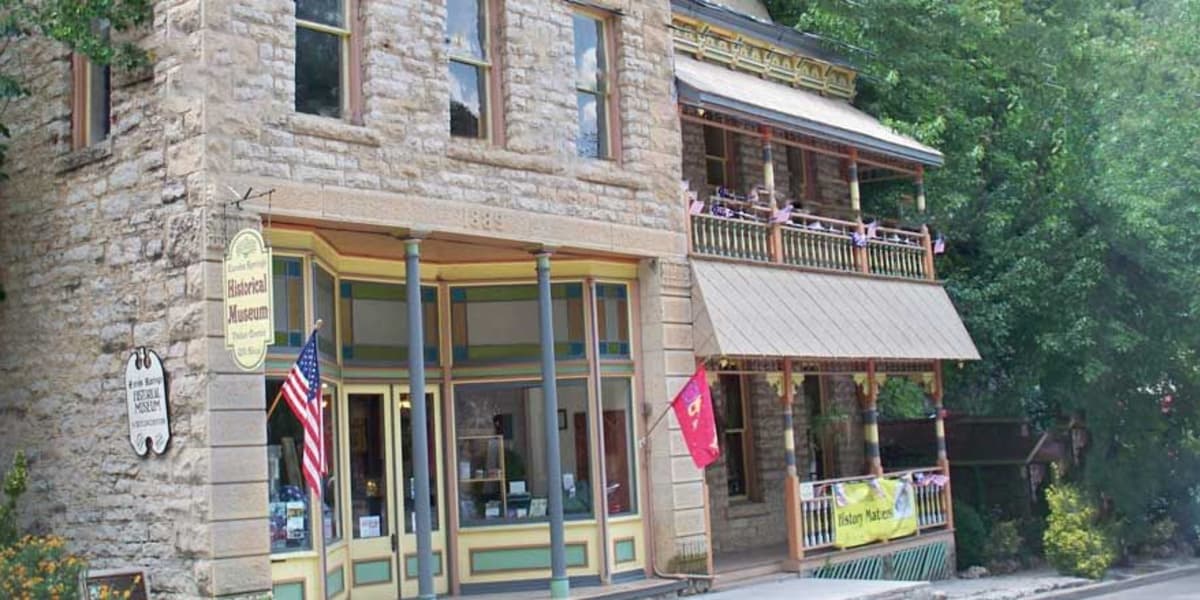 Short Drives
#1. The Historic Loop: Starting at the top of Main/Hwy 23 at Hwy 62, drive down into downtown, past the court houses, then stay to the left at the "Y" up Spring Street. You will have the traffic right of way at this weird intersection. Continue all the way around Spring Street by following the main flow of traffic.
You will pass by many of the named springs, most of which have lovely seasonal gardens planted. As the houses thin out, keep an eye open for one of our favorite springs, Grotto Springs, on the left. Park and take a look in the cavern. There's a water fountain to refresh yourselves, as well as a bowl of water for your dog companion.
Continue on, climbing up to the Crescent Hotel. The Crescent is to the left. I recommend you park and take a look inside. The 4th floor bar, which is open to the public, has a balcony with an incredible view. You can read the history of the historic hotel along the main floor corridors. In season, their gardens are also lovely. When you are ready to leave, continue on the historic loop, following the yellow line and red curbs as the road bumps and winds through the Victorian neighborhood. And the drive is done!
#2. Scenic Hwy 187: Driving north on Hwy 23, 3 miles, and just past Gaskins Cabin Steakhouse, turn left onto 187. Follow to the mini Golden Gate Bridge, cross the White River, into the small town of Beaver, and continue, you will pass Railroad Winery. If they are open you can stop and do some tasting (tiny sips). Continue until you reach Hwy 62. Take a left to return to town. On your way back, watch for the left turn into Thorncrown Chapel- worth a visit, and also on your left, stop at Inspiration Point for an incredible view of the White River valley. The antique store there is quite good, also.
Activities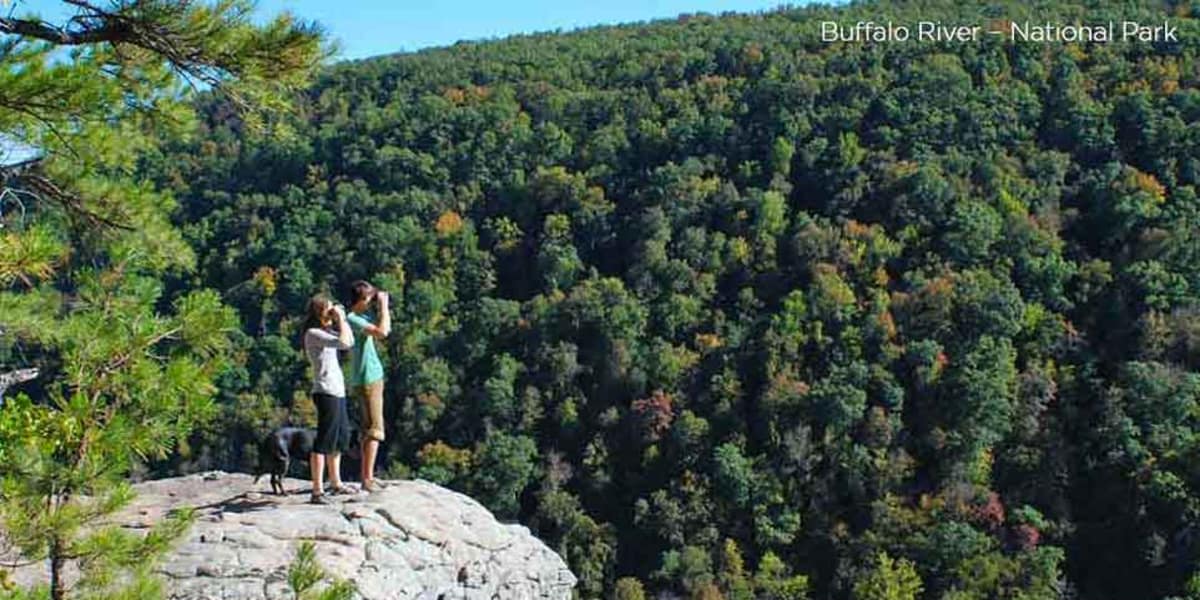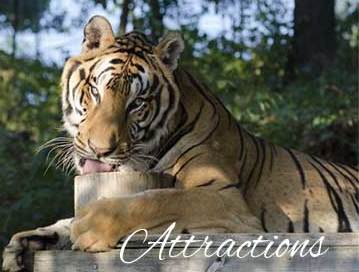 Local attractions range from the Turpentine Creek Wildlife Refuge, home to wild cats, to the Promised Land Zoo, to the inspiring Thorn Crown Chapel, to War Eagle Mill, a working flour mill.
---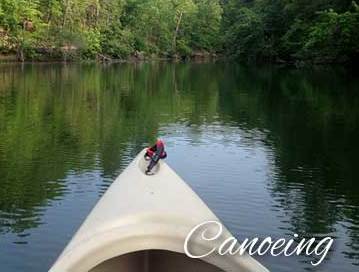 Day trip canoe adventures are less than 15 minutes away. Best river months are April to July, and depend on our rain fall. Schedule your paddle with Kings River Canoe or Tall Tales Guide Service.
---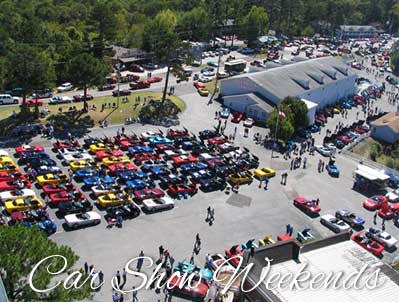 If you love cars, you will love our Car Show weekends, including Mustang Weekend in April, VW Weekend in August, Antique Automobile Weekend in September, and Corvette Weekend in October.
---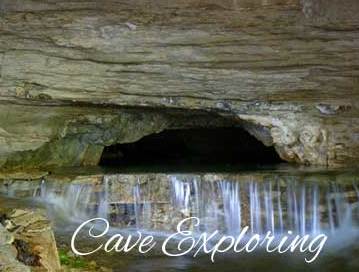 Go cave exploring at Onyx Cave (5 min drive), War Eagle Cavern(25 min drive), Cosmic Caverns(25 min drive), or Blanchard Spring Cavern (2 hour drive).
---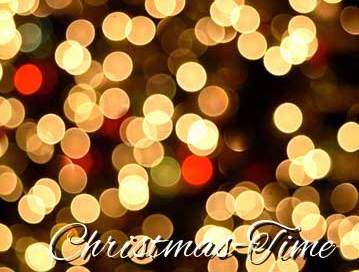 Eureka Springs festive holidays are not to be missed! Dazzling Christmas lights, the Christmas Parade (featured on A&E in small town parades) and the Tour of Homes are just a small sampling of Christmas celebrations.
---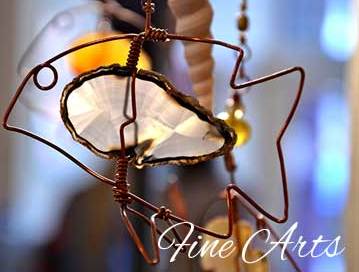 Since the 60's, Eureka Springs has attracted a strong artist community. Ask the innkeeper for a list of our favorite galleries. Eureka Springs artists are featured throughout The Inn at Rose Hall.
---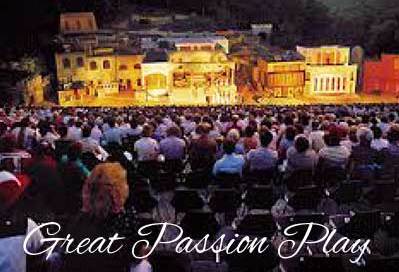 This famous play of the passion of Christ opens in April and runs into the end of October. See the Great Passion Play website for details and pricing.
---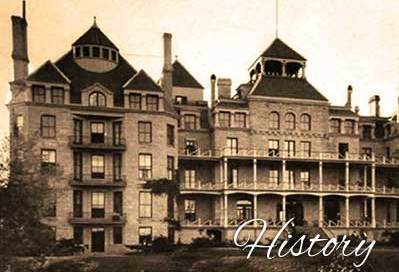 Enjoy a glimpse intoEureka'smulti-faceted history at our museum, 95 S Spring St. We highly recommend the Voices fromEureka's Silent City that takes place in October. It is a living history tour features live actors in period costumes playing the roles of our early citizens.
---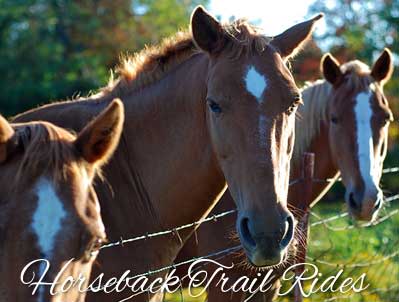 Ride through scenic Ozark mountain trails with Steve's Stables, Red Bud Valley, Bear Mountain Riding Stables and Diner Bell Ranch.
---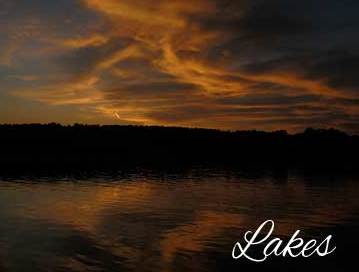 Lakes and rivers abound in the area. Fish or boat on Beaver Lake, Lake Leatherwood, Table Rock Lake, Buffalo National River, White River, or Kings River.
---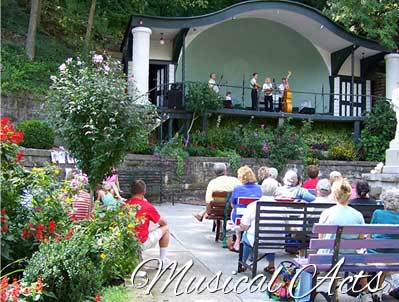 Musical acts grade the stage of the Auditorium in Eureka Springs year round. Recent acts include Willie Nelson, and AllisonKrause. Chelsea's CornerCafé offers live music nightly.
---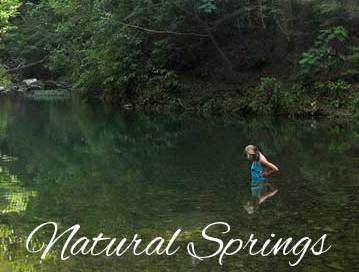 Spend a day visiting the natural springs tucked into grottos all over town. Or visit the lovely Blue Spring Heritage Center, where 38 million gallons of cold clear water pour daily into a trout-filled lagoon.
---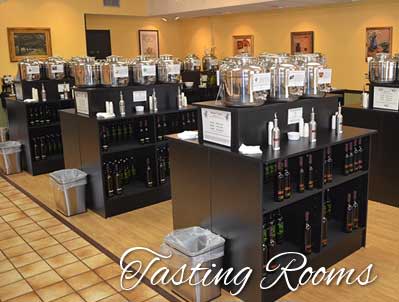 Try the tasting rooms at Keel's Creek Winery and Fresh Harvest with fine Olive Oils and flavor-infused Balsamic Vinegars.
---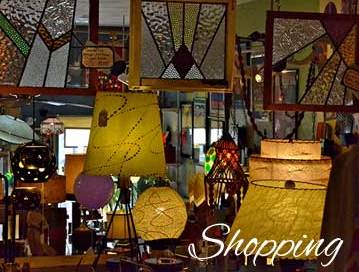 Eureka Springs is a terrific shopping town, from antiques, to fine arts, to crafts, to clothing and souvenirs.
---
Nighttime entertainment abounds on weekends in Eureka Springs with plays, live music,Ozark Mountain Hoedown and Pine Mountain Jamboree.
---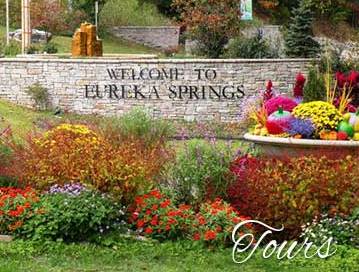 Tour town or the haunted Cresent Hotel. Local tour companies: Eureka Tours, Guided Tours, Eureka Springs Tram Tours, Ghost Tour, andUnderground Tour.
---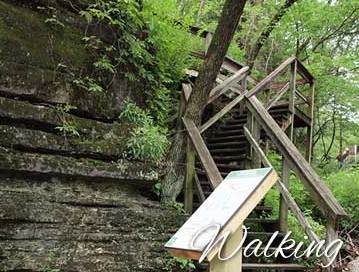 Capturing the flavor of our stair-stepped Victorian town should be done on foot for the full effect. Ask the innkeeper for a map for self-guided walking tours.