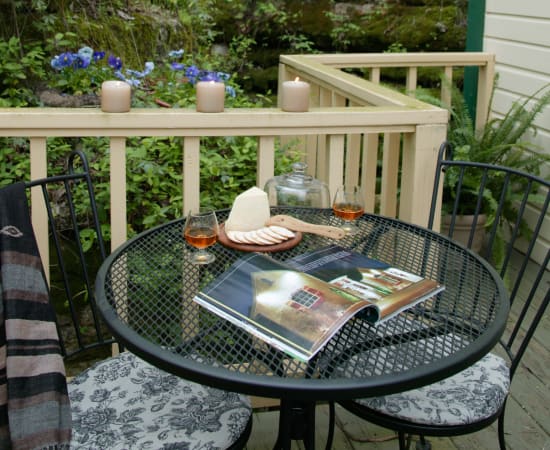 What to Expect
A Place for Space & Solitude
The Peabody House is an exquisite, historic Eureka Springs Bed and Breakfast. It offers luxurious guest accommodations with the charm of an 1880's Victorian Inn. You can enjoy your solitude in your own rocking chair on the wrap-around porch.
Your Personal Suite
Select the suite that suits your personality in the main house. The Dashwood and Cheshire Suites are spacious with large jetted tubs for two. They both have king beds and private sitting areas. The Nautilus focuses on the very interesting four-poster king bed.
Tucked behind the main house is a charming, two-story cottage — The Rivendel. The upstairs queen bedroom offers a petite balcony for enjoying your morning coffee. Each are decorated with antiques and curios collected by the innkeeper in her travels around the world. This boutique inn offers some of the largest accommodations in Eureka Springs. And is ideal if you are looking for space and seclusion.
Perfect Location to Visit Downtown
Our Eureka Springs Lodging is located steps away from the heart of downtown. There are great restaurants, exceptional shopping, music and lots of outdoor activities. A ten minute drive will place you at Beaver Lake, the White River and many other outdoor destinations. Play hard and return to the Peabody House after a day of adventurous vacation activities.
Shopping is steps away from your home away from home. You can leave your car in your private parking place. It's possible to walk to shopping, restaurants and explore using the Eureka Springs trolley system. Why drive if you don't have to?
All the Amenities You Wish
Your room amenities include luxurious beds and baths, with seprate sitting areas. You have your own wet bar with mini-refrigerator, microwave and coffeemaker. A complete list is available in our amenities list.
Are you celebrating a special occasion? Look at our Packages. We have several packages to help you commemorate a birthday, anniversary or honeymoon. Make this a romantic getaway and have our "I Love You Package" in your room when you arrive.
What's Happening
Check out our blog!
It's our favorite weekend of the year and it all begins Friday, December 2, 2016. You don't want to miss a minute of this weekend. Be sure to arrive in Eureka Springs early enough to check in to your room before the festivities begin.
Blog
Perks of Staying with Us
Experience the Following
Heart of downtown Eureka Springs
Walk to dining and shopping
Spacious suites with king beds
Private Parking
Private Entrances
Great ideas to enhance your stay
Amenities
Stay at Our Resort
We also have other wonderful Eureka Springs lodging options!
Our cottages and cabins at Lake Lucerne Resort & Ranch, just 2 miles door to door from downtown Eureka Springs…
LEARN MORE